What I work on
I thought about doing something different for today, so how about a tour of my desk setup? What I use, what I work on, plus a few things here and there. I shared similar photos a few years back and looking at it, I changed almost everything I use. It was probably because I worked from home office during the quarantine years, and I had too much time to think about what I use on a daily basis and how my desk setup should be. Actually, the SmartDool, that decorates my table since I got it in 2015, is the thing I kept for the longest (I have been following the creator of SmartDool, Danny Choo for years, and I got one right when he started to sell them).
Here are the older photos. The first one is my desk from 2014, right before I got an ultrawide monitor. Not missing that setup, but I really like the Nokia Lumia 1520 I had then. Such a great phone. The second is my gaming setup from 2018, and the last is my work setup from 2018. I really used to have a lot of consoles.
You will also notice that I switched to Apple products almost completely. I will write about that in a separate post, but the main reason was M1 and that with it you can have a completely silent setup. The other things just followed after it.
I tend to update things mostly after 3 years of use when I gift them to my family or friends or sell them second-hand. I am careful how I use them, so usually they look like new. All have happy new owners :). I find 3 years to be a sweet spot, where the old stuff still has enough value to be worth it for sale, and the new stuff brings a big enough change to warrant an upgrade.
What do you think? Do you keep your things longer?
Desk setup
So what do I use now? Let's go through all the things I use, in no particular order.
Mac Mini M1
This is currently my most used PC, not really much visible in the photo, as it's hiding behind the Ipad. It is the lowest configuration with the M1, 8 GB RAM, and 256 GB SSD. I don't use it for editing, but it has two main uses. I use it for web surfing, writing, or other work that just does not need that much RAM on a daily basis. But mainly it works as an always-on server. I attached a drive array to it, and it's always on, so it's a host for all my photos and other media files. I then just connect to it from my other systems. Works well, even though MacOS implementation of network sharing is often really slow.
As with other M1 systems, one just has to love how totally quiet it is. You don't even know it's there. When I was changing my setup, this was one of my main requirements, making it completely silent all the time. And it works.
MacBook Pro M1
Currently my main editing machine. With the M1 chip, 16 GB RAM, and 512 GB SSD. It's fast, totally quiet, battery life is great, and I can easily use it at home and also on the road. And surprisingly, also like the touch bar, even though I mostly use it for volume and brightness changes. Still, I get more use from it than from the F keys.
I was looking at one of the new 14-inch ones, but since I don't do video, I just don't need the extra memory or CPU power. The M1 is still powerful enough even when editing big panoramas. I also don't need any of the extra ports. For years now I have been trying to move completely to USB-C and except for a few Lightning devices, I'm almost completely done.
Dell U3223QE Monitor
One of my latest additions is the Dell U3223QE monitor. It's a 32-inch, 4K, 60hz, IPS black monitor, with support for USB-C. A really nice monitor for work, with higher contrast (2000:1), higher brightness (400cd/m2), and a huge amount of ports. It's so great to just connect the MacBook using one USB-C cable, and you have everything in the monitor. Charging, LAN network, legacy USB ports, audio. I have not used the charger from my MacBook once while I am at home.
As you can see, I don't have separate speakers, I don't need those in my desk setup, just the SB521A magnetic soundbar from Dell. I almost never listen to music or watch videos directly on the monitor, so this works fine for me. And the way it magnetically attaches to the monitor, it's just perfect. It's fine for random youtube videos or such.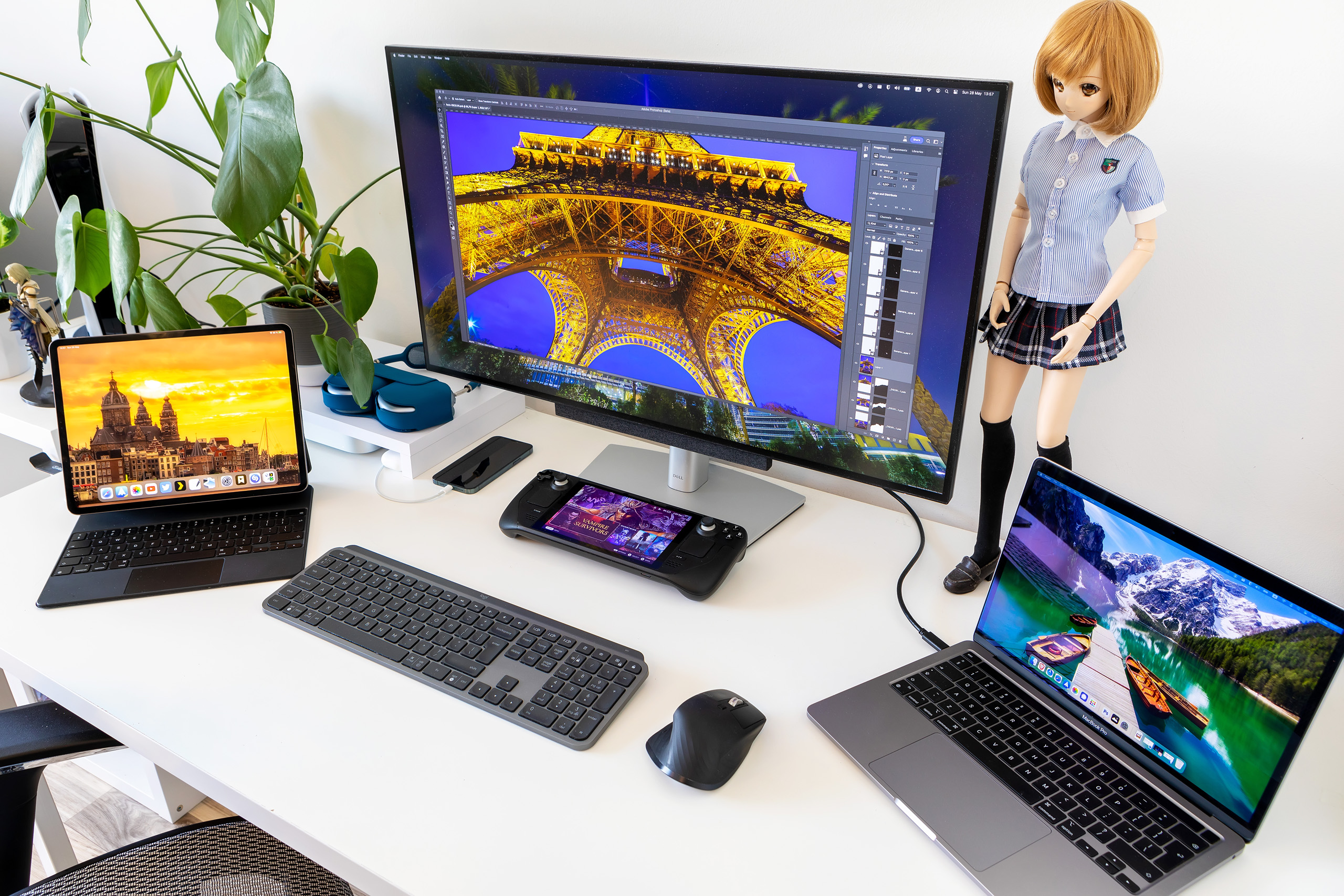 Ipad Pro 12.9 (4th gen.)
I got the Ipad as a replacement for the Surface Pro 4 I had before. But it is just not a full computer and it could not replace it. So that was replaced with the Macbook Pro, and the Ipad stayed more as a media consumption machine. And for that, it works great. Especially the speakers are superb. I also use it a lot when learning Japanese Kanji, with the pen and GoodNotes application. The Magic keyboard while nice, it's almost useless, as apps are just not made to be used with a cursor.
Here is actually agin a comparison to the Surface Pro I had before. That one I could use completely with the pen, I did not even travel with a mouse. In IpadOS most things don't even react to the pen. It's quite frustrating. I was looking at the newer versions, but yet to see a reason to update. Maybe they introduce something interesting next week.
Logitech MX Keys and MX Master 3
For a while, I have been using the Magic Mouse and Keyboard from Apple. But as I had to also use a Windows PC in my last job, I needed something that I can switch easily between multiple PC. And I'm quite happy with the MX Keys. MX Master 3 is a bit more problematic, as it is prone to problems. Random scrolls, zooming, not working macro buttons, and such. Would have replaced it by now, but I'm waiting until there is a MX Master 4 or I find something better. I used to have a Wacom Tablet too, but I sold that one. I'm just too used to edit using just the mouse, and in case I need a tablet, I can always just use the Ipad.
Airpods Max and AirPods Pro
I have not had a phone with a 3.5mm audio jack for years now, so long ago I completely switched to all wireless. First I got the Airpods Pro, which surprisingly I could use. I tried many (really many) in-ear headphones, but all caused a really horrible pressure in my ears and I was not able to use them for more than a few minutes. I never had this problem with the AirPods Pro. One just has to be really careful when crossing the street with them in one's ears.
After that, I got the Airpods Max. Yes, the price is horrible, but of course, I did not pay the full price here. With a bit of searching, I got them for much less during Amazon Prime Days sale :).   I got them because I really like how songs are in Spatial Audio. Once one gets used to it, it's hard to go back.
SteamDeck and Sony Playstation 5
As you can see in one of the older photos, I used to have many consoles. I've been a gamer for a very long time, and I also used to create games before, so it's more than a hobby. But I recently sold almost all of them. I used to have a PS2, PS3, PS4, Xbox, Xbox 360, Xbox One, Xbox One X, Wii, Wii U, 3DS, PSP, PS Vita, Switch, and a gaming PC. That I scaled down a lot, keeping only the Switch and replacing the PC with the Steamdeck. Recently I got the PS5 as a trade for some of the older consoles, but man, is it huge. That's why it's hidden so nicely behind the plants. Not that there are many games I want to play right now, but Final Fantasy 16 is here shortly.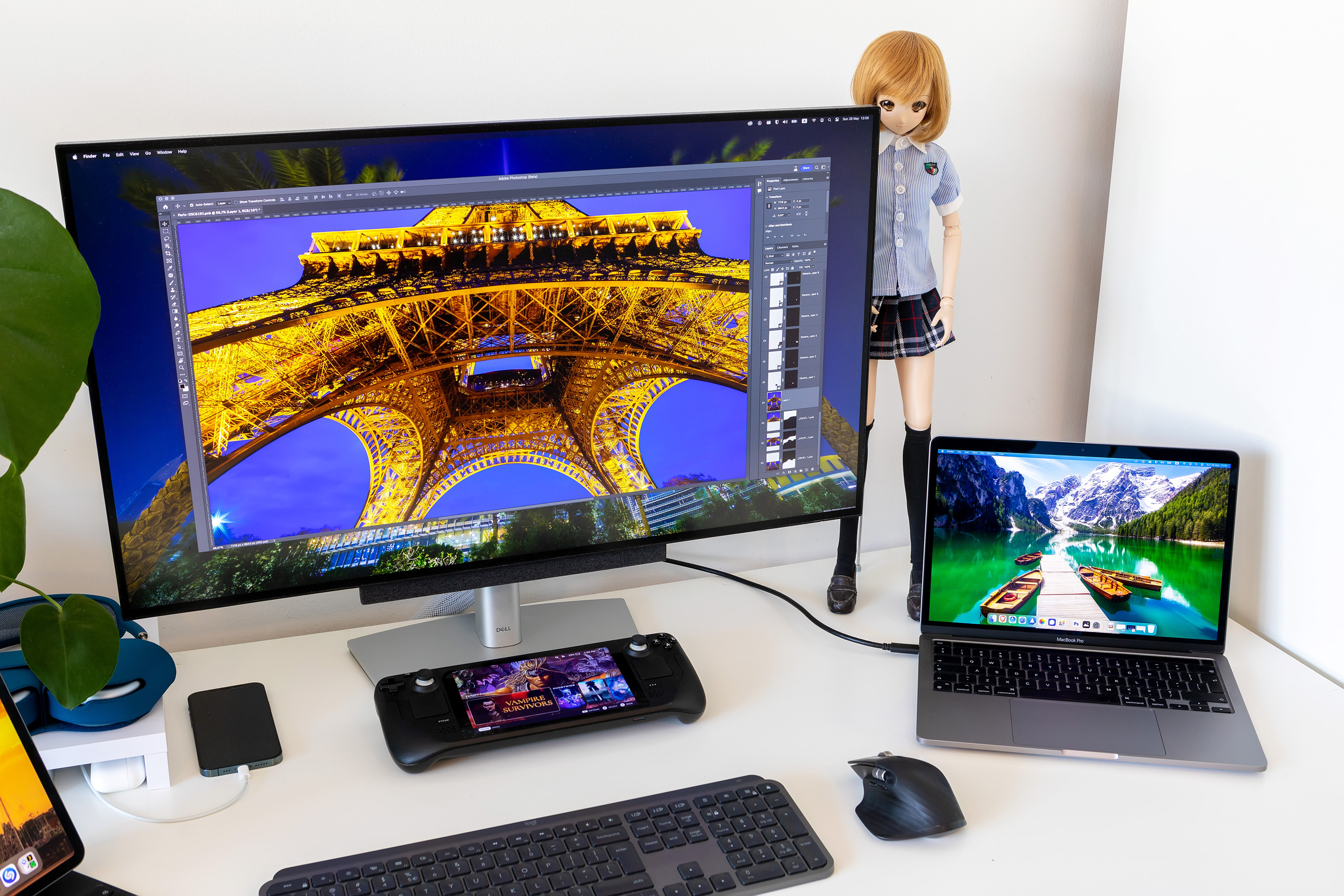 Desk setup changes
Overall I reduced my setup a lot. Also, the number of cables just got smaller, which makes for a much cleaner, more pleasant look. I'm trying to be a bit more minimal, while still keeping what I like and what makes for easy work. But also about that, I will write another day.
What do you use? Do you use a Windows PC or a Mac? What is your desk setup?