Vineyards around Spitz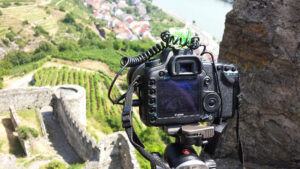 Let's continue with a photo of vineyards from the Wachau Valley in Austria. This is actually a view from the top of the Hinterhaus Ruins, in the town of Spitz, on the Danube River. It's actually one of my recommended spots for photography in the area, as are many spots on the hill you can see in this photo. There are almost no fences around, so it's overall a very nice area.
I took this panorama on a very hot summer day. I was there to get a photo of a passing ship (similar to one I posted a few days ago) so I could not choose a better time. I had to follow the schedule. But one has to make the best of what one got :).
This is a three-shot panorama, each shot blended from two exposures in Photoshop.