Taking panoramas without a panoramic head
I have been posting and also taking quite a few more panoramas recently, so today's post will be about those. To be exact about if you really need a panoramic head, and if you do when. Also, how to take panoramic shots without one.
What is panoramic head?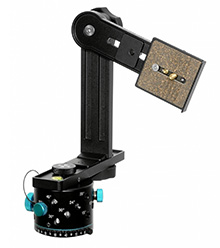 A panoramic head, is quite a big tripod head, that has two main functions. First is to move the sensor back from the center of rotation, so you avoid paralax shift (will explain in a moment what it is). The second is to allow you to rotate the camera horizontally and vertically in exact increments.
With it, you can get a perfectly shot panorama, with every photo in exact increments from each other. For big and multi-row panoramas you just have to have one. The photos will align perfectly every time if you use one.
I do have one, but use it rarely. It's just to big and heavy to carry around all the time.
What is a paralax shift?
If you ever moved you camera, you have seen it. When you move your camera horizontally, the objects that you see move also horizontally. But you may have noticed, that things that are closer to you move much more than the ones further from you. Like this, their relative position towards each other changes.
So what effect this has? If you take two photos for a panorama, but he positions between objects in the photos changes, they will not blend nicely or at all. The reason for this is, that you are rotating your camera at the spot where the sensor is. To avoid this, you would need to rotate the camera around the spot in the lens, where the light bends (nodal point). There is a mark on most of the lenses to identify where this is. If you rotate the camera around this spot, there will be no paralax shift at all.
When do you need a panoramic head?
So since the panoramic head can help you remove the paralax shift, you need it in situations when that is a problem. These are:
– when you have something very close to the camera. The closer, the more paralax shift you get
– when you are shooting with a very wide or a fisheye lens. Both of these types of lenses (mostly anything under 20mm) add to the depth of a scene, and with this add to the paralax shift.
– when you are doing a too big of a panorama. If you are doing a very huge panorama, it's easy to miss a spot or just forget where you started. A panoramic head will help you to get all the shots you need without problems.
For this photo I used a panoramic head, as it's a huge 9 shot panorama and it made it easy to get all the shots properly.

When you don't need one?
So you don't need one in all other situations. Especially if what you are taking a panorama from, is further from you. There will be a small paralax shift, but it will not effect the final photo at all. Here are few tips for taking panoramas without a panoramic head:
– zoom in. Shoot at least at 20mm or more. I you zoom out, it can happen that the panorama will not blend.
– use manual mode. Getting all the shots with the same settings is important. Meter the scene to get you camera settings, and then use manual mode to get all the shots.
– use manual focus. You don't want the focus to change in between shots.
– use a tripod. This is a must. You can get panoramas handheld, but they will never be the same as from a solid tripod.
– either do bracketing, or set exposure based on some average spot from your scene. If the panorama goes from bright area to a dark, it's best to set the exposure based on something in between them.
– turn on the build in leveling in your camera. If it shows up on the camera screen, it's easier to move the camera horizontally without moving it up or down.
– do multiple panoramas. Never do just one shot, do multiple. Bigger chance you get one right.
This panorama was taken without a panoramic head. There was nothing close to me, so it was not a problem.

If have, you can also use a tilt-shift lens to create panoramas, and you can read more about here.