Inside the Liverpool Cathedral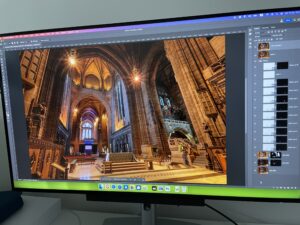 While writing yesterday's post, I remembered my visit to another huge religious building, the Liverpool Cathedral. I have been there actually twice, but both times already years ago. But I thought to myself, if I edited one of the photos I took then, would it still look good? So I did it.
I looked through my photo archive from 2010 when I was there. I still had a Canon 450D at that time, and I used it with a Sigma 10-20mm f3.5 lens. It's funny to use photos from such a camera, as it's only 12.2 Mpix, and if you have a 4K screen, you can almost see it 1:1 all at once. 4K is around 8.3 Mpix in size.
I ended up quite liking the result so here it is. If I compare it to newer photos, the ones I took with the Sony a7R or the Canon 5D mark IV, the lover detail is noticeable and the lens is just not as sharp as the Canon 17mm Tilt-shift, that I would use for something like this now. But since I took three exposures here and shot in RAW, I still could recover the highlight and shadows quite easily, even though the dynamic range of the 450D was quite bad.
Strangely, there is a sign "No photos" in this photo, but I don't remember anymore if photography was forbidden or not. I just know that nobody said anything. Maybe because they were preparing for some event that day. You can see a screen in the back, and there were many tables set up in a different area of the Liverpool Cathedral. It's been 13 years since I took this photo, so I don't remember everything.
This is a blend of 3 exposures, done in Photoshop. I did remove a few people using Generative Fill. I do like the result, so I think I go back through the archive to see what I could not edit then, but would look good now.