Flares are one of those things that can add to a photo, but usually you don't want them. Especially if you are doing a nice landscape shot, flares can completely destroy your photo. There are multiple ways of avoiding them and removing them, so lets take a look at those.
Avoiding lens flares
The best approach is to avoid lens flares in the start. This is not always possible, but few simple steps will help you.
1. Use a lens hood – even if you think you don't need it. Lens hoods are specially designed to block stray light getting into you lens. And that's exactly the light you need to avoid. Also when you are doing night photography, a lens hood can help you avoid stray light from street lamps and similar sources.
2. Be aware of the suns position – when shooting landscapes, you should always take into account where the sun is. If its anywhere else than behind you, check for lens flares. You will not see them through the viewfinder, but they will be visible in live view. You can even take a test shot, to check for them.
3. Don't use filters you don't need – this is especially true for UV filter. These filters can create much more flares, than you would have without them
4. Get a better lens – I know this is not cheap, and should not be your first approach, but better lenses catch much fewer lens flares than the budget ones. They have special coatings that prevent this.
Removing them using Photoshop tools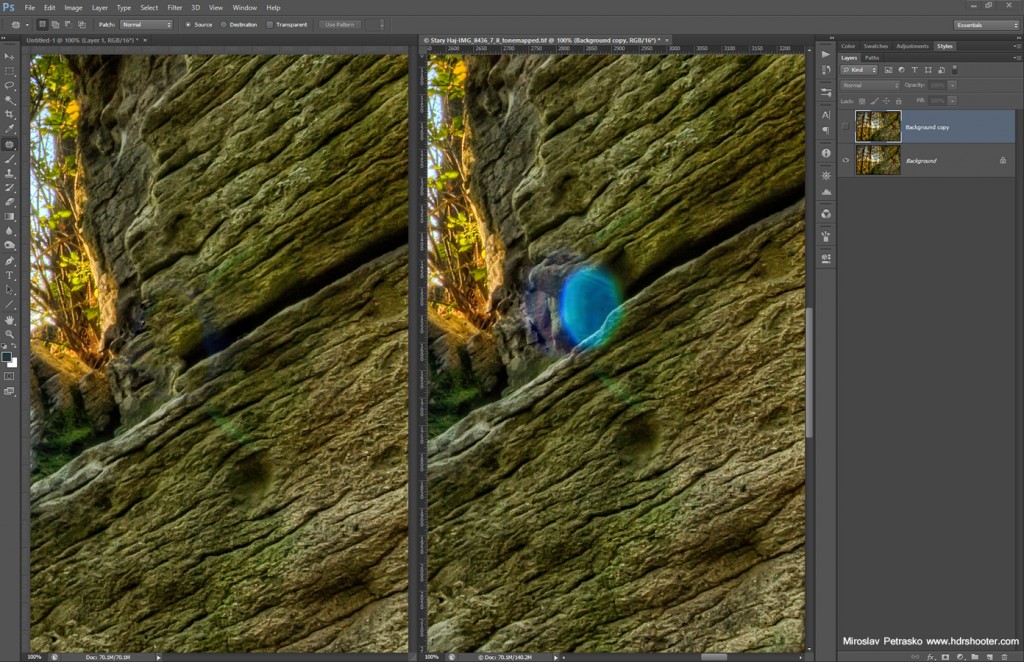 If you didn't managed to avoid them, and you don't like to have them in your photo, you can remove them in Photoshop. Photoshop has many tools for photo retouching and some of them can also work on Lens flares. The most useful are Patch tool, Healing brush tool and Content aware fill. In a way, they all work the same, you just select the area you want to replaced and then either move it over a clean area (Patch tool), Fill it using content aware fill (Shift + Backspace and select content aware fill) or you paint over using the Healing brush. This works well only in some cases, having a flare over a very detailed part of the image can cause problems in retouching.
Here you see an example of this. I used the Patch tool to select the flare and drag it over the area to the right. Don't worry, you don't have to be absolutely accurate, because with the size of photos, any error you leave will be only visible at 100%, so not even if you print the photo.
Blocking the sun
An advanced approach to dealing with lens flares, is to prepare for their removal right during the photo shot. This works for photos taken from a tripod, not so well for handheld shots. What you need to do, is shade the sun with your hand (or something dark) if its to the side of you camera, while taking the shot. If the sun is in your shot, than take two shots, one normal and one with your hand in front of the sun. This two should have the same settings, as you will need to merge them later. This works best if you are in Manual mode. Here you see an example of two such shots:
These you can then load into separate layers into Photoshop and easily using layer mask (check my tutorial on those here) correct the problem. Be careful with the color cast, as the shaded photo can be a little colder than the one with the sun. This can happen even if both photos have the same white balance and it  has to be corrected.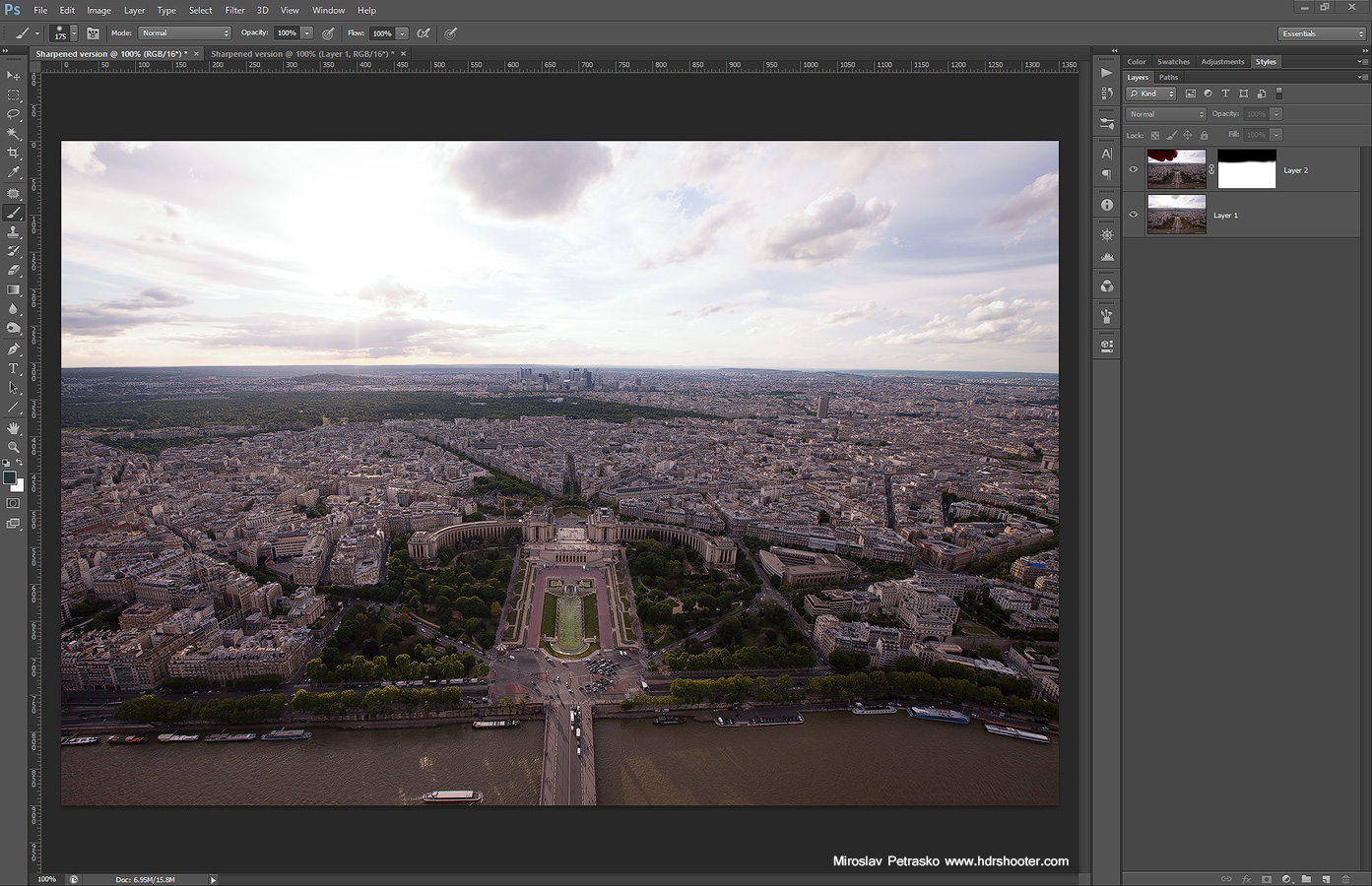 If you are doing a HDR bracket series, you do the same, you just take one series normally and one series with your hand in front of the lens. You usually need only one photo with the shaded sun, It just hared to say which one, so its better to take the whole series. Here you can see a sample series of this: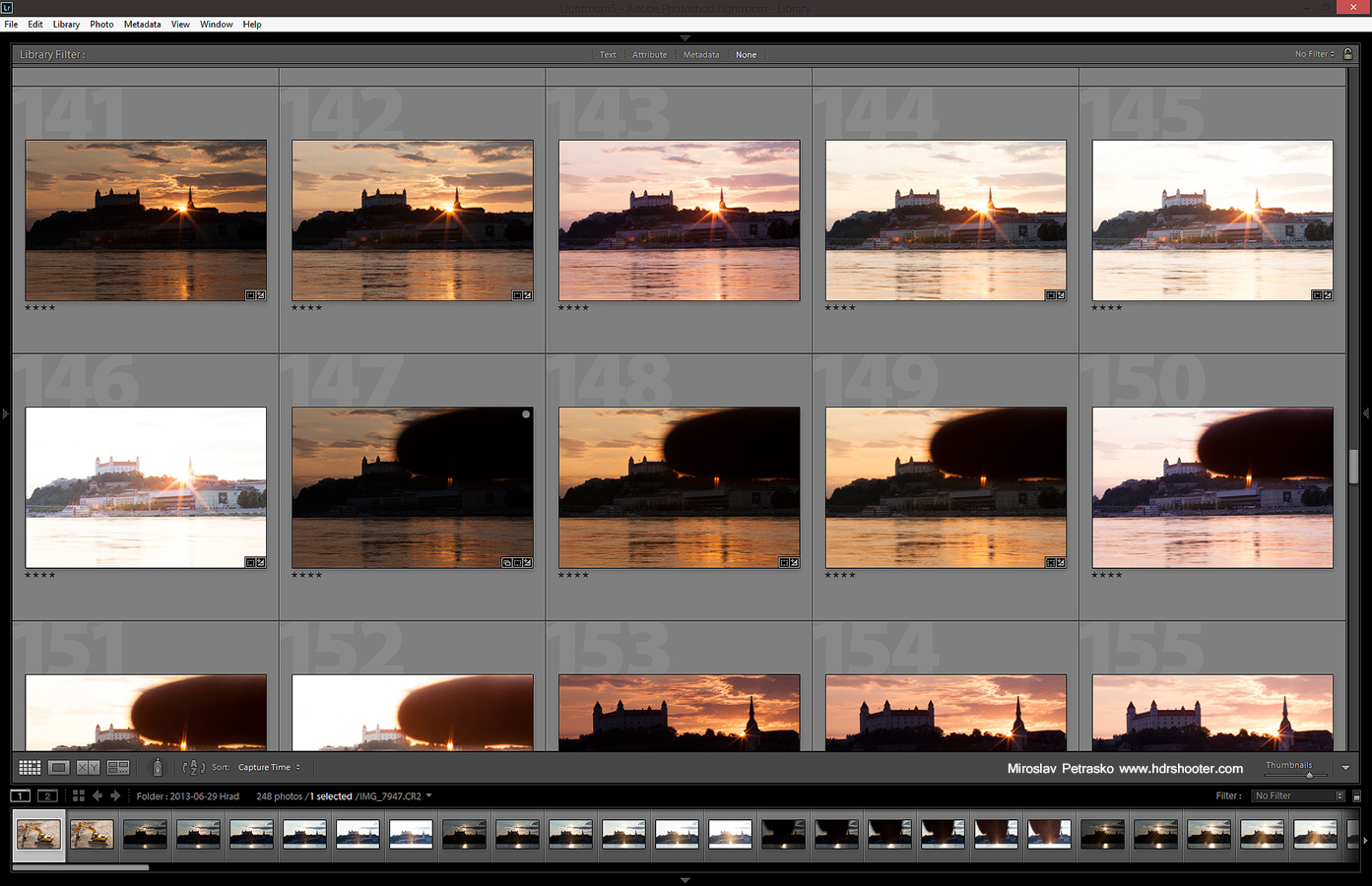 After that you continue as before, jut merge the normal exposures as you want (Oloneo, Photomatix, Manual blending) and then repair the lens flares from the shaded shot.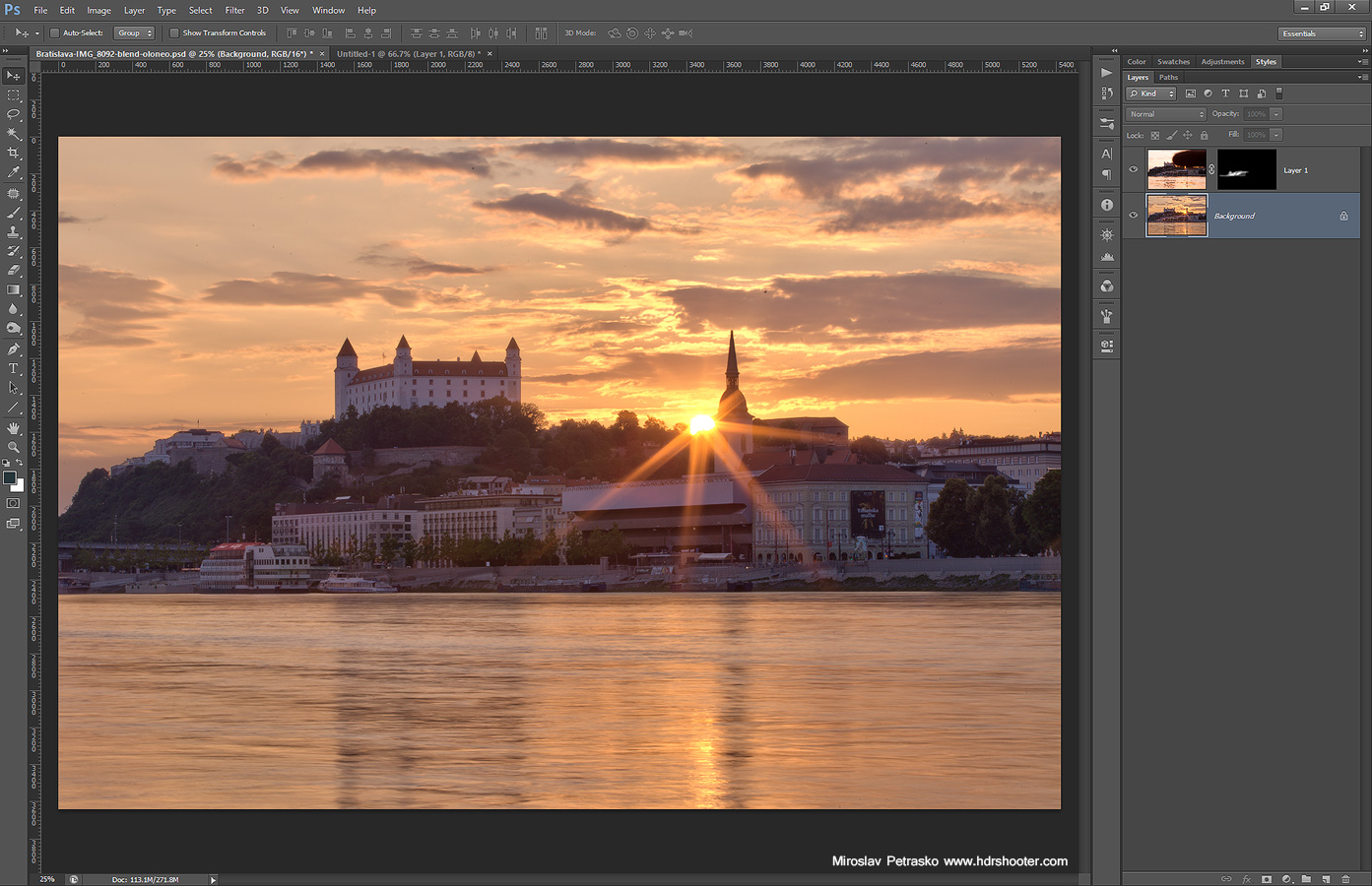 And here you can see the finished photo, nice and flare free :)

I prefer the third method, which gets all my photos flare free. I hope you find this guide useful, and if you have any questions, feel free to ask.
And here you have a video where I go through all of this together in one spot :)