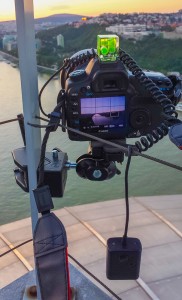 As I've been shooting photos in Bratislava for a few years now, it happens that I revisit the same spots. I try to get some new original composition, but it not always works out. But what I found the easiest, is to take a lens I haven't had before. It really helps to give you a different perspective.
Same with the top of the SNP bridge. I've been there many times, but never with the 70-200mm lens. So this time I took that, and zoomed in a little more into the city. And I think it worked out nicely :)
This time I also took my Manfrotto clamp, to try and work without a tripod. It worked out perfectly. I hanged it from the bridge and all the time I had absolute confidence that it would hold the camera. It didn't move a bit when I touched it. You can see a photo on the side of how I had my camera attached.
This photo is a manual blend from 5 shots.