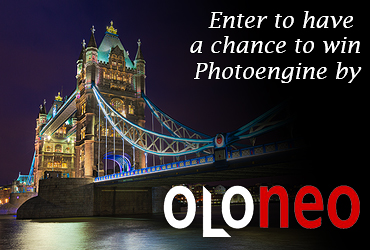 Last day to join the contest
Tomorrow is the last day you can join my photography contest sponsored by OLONEO. After that the voting will start. The raffle will continue for one more week, so don't forget to join. To find all the info about the contest, please go here: https://www.hdrshooter.com/2013/11/18/photo-contest-sponsored-by-oloneo/
10 basic Photoshop shortcuts to make your work easier
While editing photos, I use Photoshop all the time. And making it easier and faster, one has to use as many shortcuts and possible. So I thought that some of you, who are just beginners, would find useful a short list of 10 shortcuts, I think one should know and use in Photoshop. There are of course many more, but these are the ones I think everyone should start with.
Space – pan image. This is the one you should get used to first. When you hold the space bar, your cursor changes into a hand and you can move around the photo. This make all edits so much faster than hawing to use the tool or scroll bars.
Ctrl + Space – zoom in/zoom out. This is another one that makes all your work so much faster. Instead of having to choose the zoom tool, just use this shortcuts instead. While holding these two buttons, press your left mouse button and drag up/down to zoom in/out. This is the fastest way to zoom around the photo.
F – full screen. Make you work easier, and hide all you don't need. It cycles through three modes, so choose the one you like the most
D – reset colors. This resets the foreground color to black and background to white. This is very useful when you work with masks, and you need to quickly reset you chosen colors.
X – switch colors. Switches the foreground and background color selection. Great for when you are painting a mask, and you need to switch a lot between white and black.
Ctrl – move. Move tool is very important in Photoshop. And so you don't have to always select it, there is a quick access to it. In almost all other tools, when you hold down Ctrl, you will be temporarily switched to Move. When you release the key, you will continue with the tool you had.
Ctrl + Shift + V – paste in place. Everybody knows what Ctrl + V does, and this is and advanced version of that. It will paste your selection on the same place from where you took it. For instance if you copy your watermark from one file to another, it will appear on the same place as it was.
Ctrl + Alt + Shift + E – merge visible. While you are editing your files, quite a lot of steps need to be performed on a merged copy of all the layers (like high pass sharpening). This shortcut makes creating such a new layer much faster, even if you have to press 4 keys at once
Ctrl + Alt + Z – step backward. Ctrl – Z is the usual keyboard shortcut for step back, but if you want to go more than one step back in Photoshop, you have to use this one
Shift + Backspace – fill. Always when you need to fill a layer, or a mask with black, white, 50% grey, or you need to use content aware fill on the selected area, just press this and select what fill you need.
A cold evenings light
The weather looked so promising today, so I went out shooting with Pedro Kin from www.pedrokin.com. And we got a nice sunset, with interesting clouds, just the color wasn't there. I just could not get the look I hoped fore, even after quite a long edit. So I have to be satisfied with the photo how it is. It has to be better next time :)