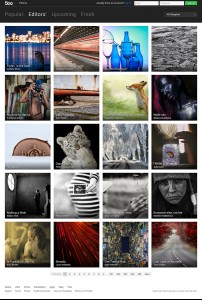 Photo selected for Editor's choice
For the first time ever, one of my photos has been selected for the Editor's choice category on 500px. Recently I've been posting there more and more and my photos get quite a good response there. So it look like more photos will find their way there :) You can see the selected photo here, or my account on 500px here.
Flooded by the sunlight
This looks almost nothing like what I got from the camera. This was such a low contrast scene. The sun with the low clouds and the air being full of moisture, just filled everything with light and it all looked the same. As the name says, it was flooded by sunlight :) When I edited it, I added a lot of contrast, but still wanted to keep the feeling of all the sunlight. I'm not really sure about the color. Somehow especially by photos like this, they look different on every monitor. Sometime the yellow is more red, sometime more green. One would think with all the standards, the manufacturers of screens could finally create all monitors with the same colors. But we can just dream about that.
This image is created from two shots, both 5 exposures. One taken normally, one with the sun covered, so I can remove the flares (check my tutorial on removing flares for more details). I then created two HDR images in Oloneo Photoengine and blended them in Photoshop.