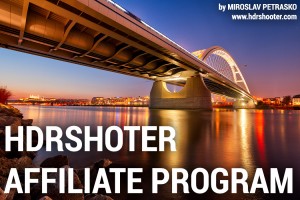 Affiliate program
Together with the new video tutorial series "Master exposure blending" I'm introducing also and affiliate program that is open for all.
Affiliate program is a way for you to earn money by promoting my videos. You just need to register to get a special tracking link to the tutorial, and everytime somebody buys the tutorial, while coming from that link, you get a part of the profit.
So for all those interested head over to the Affiliate page and register (it's completely free) and there you can also get the product link for the tutorial I offer. The provision is 20% from every sale.
In the late evening
The weather is getting better, my fist trip is getting close. I so can't wait to have new photo from new locations to share with you on the blog :). But until then, here is another shot from Bratislava.
This is a HDR form 6 shots, created in Oloneo Photoengine.

Technique: Oloneo Photoengine
Number of exposures: 6, Camera Model: Canon EOS 5D Mark II, Lens: Canon 16-35mm F2.8
Focal length: 22mm, Aperture: 5.0, Middle exposure time: 8s, ISO: 100, Tripod used: yes
[map z="18″ hidecontrols="true" marker="yes" w="100%" h="150″ maptype="SATELLITE" lat="48.136989″ lon="17.103008″]