Botanical Garden in Bratislava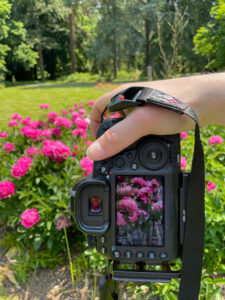 The weather has been really nice recently in Bratislava so today I decided to go out a bit to take a few photos. But as it is really sunny, I decided to visit the Botanical Garden here. It's really nice place to be able to relax a bit and get away from the city. It's also great if you need to take some photos with a nice nature background, like family portraits and such. I did some in the past, and some have been also shared on the blog (for instance here, or here).
A few years back I used to post a selection of photos showcasing colors of spring from there every year, but that was not possible during the last quarantine years, and this year I missed the blooming season a bit due to the bad weather. But let's catch up a bit today :)
On the side, a little behind the camera shot, that I shared earlier today on Twitter. I'm trying to post there more regularly now, so feel free to follow me there.
Exploring the colors of Spring
And here are a few photos I took today. I went with shallower DOF here, to give them this soft look. All taken handheld with the Canon 70-200 F2.8 lens.
I decided to share them all in a higher resolution (2560px tall or wide) and without a watermark, so if any of you would like to use them as phone/tablet wallpapers, you can easily do so.