The contest and the giveaway is over, you can view the winners page later today.
Thanks to Oloneo software I have for you another round of my editing contest. Again you get a chance to win a copy of their great HDR editing program Oloneo Photoengine. If you don't know Photoengine, I really suggest you try it out, as it's one of the simplest and best HDR editing programs available. You can also see in a lot of my recent photos, that I used it to create the initial blended images, as it creates a very natural look.
You can find all the information on Oloneo and their products here: http://www.oloneo.com/en/page/home.html
and you can find a trial version you can try right away here: http://www.oloneo.com/en/page/download_form.html?product_id=pe1&type=trial
(there is no Mac version available, but you can run it in a virtual machine)

So when you are done playing with it, here is how you can enter the contest:
How to join the contest
1. read the complete rules first :)
2. download the provided series of brackets showing the Tower bridge in London from here https://www.dropbox.com/sh/ouao6bfobixehg2/diwbjyEIze
3. edit them into a final HDR photo (you can use any software and any technique, tone-mapping, blending, exposure fusion, black&white version)
4. join the contest event here http://www.facebook.com/events/387337638066274/ and post your photo into the event or send the final edit to me, under miroslav.petrasko@gmail.com with the subject "HDRshooter contest"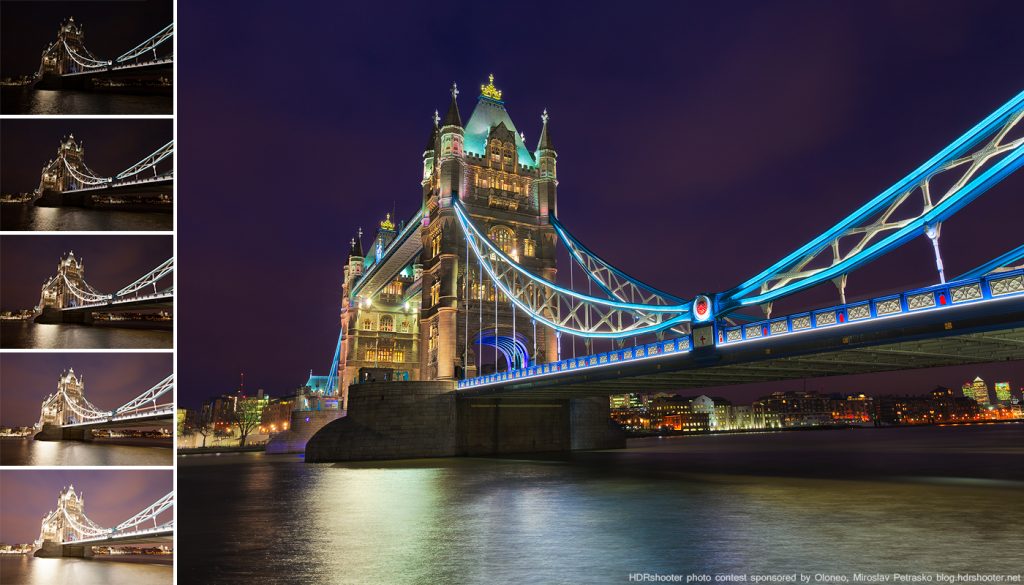 Only one entry per person is permitted. Please don't use parts of any other than the provided photos. If you post your photo to the event page, you can delete your submission and upload a new one. If there is more than one from a person, the last one is entered, all other will be deleted.
There will be two winners in this contest, booth of them receiving a download copy of Oloneo Photoengine.
1st winner will be selected by a jury of great HDR photographers, Jimmy Mcintyre from ThroughStrangeLens, Daniel Cheong from Daniel Cheong photography and Anthony Gelot from A.G. Photographe.
2nd winner will be selected by fans on Facebook, where everyone can vote for their favorites, once all the entries have been submitted. This voting is not in the event.  Sharing of your entries further to promote them is permitted, but entries with fake likes will be disqualified.
The latest time to submit you entry is 1st December 2013 at midnight. The voting on the winner will be held during the week from 2nd to 8th December on the HDRshooter facebook page.
I hope you will all have fun editing and good luck to you all :)

Join the raffle
And a little surprise :). For all those of you, who don't have time to edit, or just don't have the software, and still would like to win a copy of the Photoengine, there is an option for you. Just join the raffle (you need to enter a name and an email address for that) and fulfill any of the conditions. If you want to have a bigger chance, you can fulfill them all :). The raffle ends at the same time as the editing competition.
a Rafflecopter giveaway

I reserve the right to change or amend the competition rules at any time without prior notice. By entering the competition, entrants agree to be bound by these rules. All participants can't use the final photo for any commercial use and have to give credit to me as the original author, also I will not use their versions for any purposes other than promotion of this competition. Participants can share the photo on their FB, blog, flickr or other accounts, but still have to give me credit as the author and link back to the contest.
And a little something to inspire you :). This is a version created only in Oloneo Photoengine. Took me about 3 minutes to get it to this stage. You can try it yourself in the Trial version.