My very first HDR
You probably can imagine how horrible it was :) And you can see it here. I found it some time ago on my hard-drive, so I thought I share it. I'm not even sure when I took it, but it was around 5-6 years ago, even before I bought my first camera (I had to borrow one to try it out). I just wanted to try it out, and I haven't started taking photos for over a year after that. You can see in it all the classic mistakes one can do with HDR. I'm glad that my photos no longer look like that :)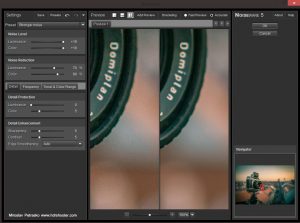 Imagenomic Noiseware review
I added quite a few reviews recently, and today there will be another one. This time its Imagenomic Noiseware, currently my preferred plugin for noise reduction in Photoshop. Head over to the Noiseware review to find out more.
Cold evening with cool clouds
Sometimes even ugly weather can create an interesting sky. Same with this one from Sunday. It was cold, foggy, with a mostly clear sky. But exactly around sunset it became more interesting, and I got few shots. I was standing on one of the piers by the Eurovea Shopping center, and as it's above the Danube, it was freaking cold there. And even bigger problem was, that the pier shakes like crazy when someone walks onto it. Luckily, it was already dark, so not many people around. But of course, once people saw me on the pier, they had to go there, even if they just got to the end and turned around. They haven't even looked at the nice view. I always say that I don't understand people, and I probably never will :)
This is a HDR created in Oloneo Photoengine from 5 shots and finished in Photoshop.