2 000 000 views
I just checked the statistics on my Smugmug portfolio site, and it show that I just passed 2 000 000 photo views for this year. I want to say a big thanks to all of you who visit my blog and portfolio, and I hope you all like the photos :)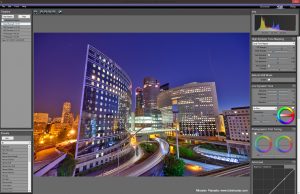 Oloneo Photoengine – review
Continuing with my reviews, for today I have for you a review of a program I mentioned a lot of times recently, mostly due to the contest :) Head over to the review to find out what I like about Oloneo Photoengine, and how it can be useful in your post-processing.
Sparkling lights
The weather recently is not that great in Bratislava, and as there also is no snow, I haven't been taking many photos. But I wanted some with the Christmas decorations, as they are quite a few around the city. I particularly like the ones by the Eurovea Shopping center, as they are made all from lights. It was a little challenge not to have any people in the shot, but with a little timing, bracketing and cloning out, I got it empty :)
This is a HDR created in Oloneo Photoengine from 5 exposures and then finished in Photoshop. I had to recover the bright lights, as I wanted them to really shine.

Technique: Oloneo Photoengine + Manual blending
Number of exposures: 5, Camera Model: Canon EOS 5D Mark II, Lens: Canon 16-35mm F2.8
Focal length: 16mm, Aperture: 22, Middle exposure time: 8s, ISO: 100, Tripod used: yes
[map z="18″ hidecontrols="true" marker="yes" w="100%" h="150″ maptype="SATELLITE" lat="48.140185″ lon="17.123096″]