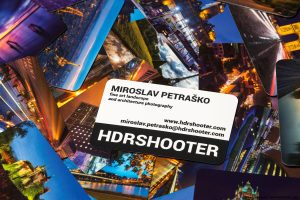 MOO cards – review
Moo cards are my favorite way of creating business cards, and in this review I will tell you why. Continue to the full Moo cards review.
Last moments of sunset
I haven't posted a panorama for a while, so for today I have one for you. This is another shots take in the middle of the summer last year. This is one great place above the city Hainburg in Austria, from where you get this great view of the city and this S-curve in Danube. And another great thing is, that you can get there by car, so no walking up the hill :)
As you can see, this was taken right around sunset. The sky was a little boring that day, so I comped more for the scenery. This is a Panorama from two shots, each one from 5 exposures. I used my standard technique of combining the panorama, which you can see in my panorama tutorial. I also took another set of 5 exposures with my hand in front of the sun, so I can remove the flares. I used the approach as shown in my How to remove lens flares tutorial.
Technique:Manual blending
Number of exposures: 5×3, Camera Model: Canon EOS 5D Mark II, Lens: Canon 16-35mm F2.8
Focal length: 16mm, Aperture: 22, Middle exposure time: 0.5s, ISO: 100, Tripod used: yes
[map z="18″ hidecontrols="true" marker="yes" w="100%" h="150″ maptype="SATELLITE" lat="48.153316″ lon="16.952628″]