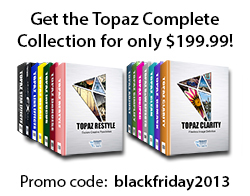 Cyber Monday and Black Friday sales
Black Friday and Cyber Monday are just few days away, and as it is the best time to buy new software, I thought I share with you some interesting deals I came across. So here is the first one. For the next few days Topaz Labs has discounted the whole Topaz plugins Collection almost by 50%. It's really worth checking out. The amount of all the available effects here is just stunning. You can find them all on the Topaz Labs site.
5000 likes
My fan page on Facebook just reached 5000 likes. Thank you very much everyone who follows me there and I hope that over time there will be many more of you :)


Color therapy
Some time ago I was thinking, how would my photos looks without structure. I mean, when you do a B&W photo, you keep the structure, but remove the colors. So what if I removed the structure and kept the colors. I just wondered what I would get. And with a little playing around in Photoshop, I got this little series of very colorful minimalist images. It's funny that even without any subject in them, I still get a similar feeling from them, as I did from the photos they were created from. The sunset, sky, grass colors are so unmistakable, that even on their own you feel like you see the objects :)
What do you think?
Cold evening by Danube
For today I chosen for you a photo I took two weeks ago by the SNP bridge in Bratislava. The water level at this time of the year is quite low, which really allows one to get down under the bridge, so getting also all these rocks into the shot. The light was not that great, but that is normal for this time of year. Hopefully it gets a little better, as I would so like to go out and get some new photos.
This is a HDR created in Oloneo Photoengine and then blended with original exposures in Photoshop.